These posts always make me
so
excited to talk about! I just love our sisterhood so much. This time around, I think we did so well!! Hope's crochet lace vest is so feminine and darling.
And!
It was such a huge challenge for me to style! I'm really trying harder to play with layers in my everyday outfits for class and there is no one better at it than our very own Hope! :) I literally sat at my computer looking through her chictopia searching for ideas about how to make this work. I saw at one point she layered a sheer top over a romper and was like..bam! There we go! I grabbed my favorite romper I haven't blogged yet, put this vest over it, added a belt, slipped on some patterned tights and my favorite boots, and voila! And! To push it that much further, I added another layer through my royal blue cardigan in style of Hope. I
love
how this challenged me to step outside of my creative zone and although I took a lot of notes from Hope, this still feels so me! Yayy!
Hope styled her vest so chic-ly! I
love
her blazers and this hot pink one is no exception! I love how she wore this vest with jeans- this vest truly got such different looks from the three of us! Plus, the rolled jeans with her shoes are
so dang cute!
If you haven't, you should all go vote for her to win in the forever21 vlog contest! She made the final 10 :) Cheyne styled the vest with florals too! Hehe! Seeing that made me smile! We joke that we are soul sisters sometimes. I love her hat. She has the best hats. She always looks so put together, it makes me jealous. Actually, I'm jealous of
both
of these girls! Cheyne also has the best flats/boots
everrr.
It's my dream to go shopping with her (you too, Hope!).
It's so funny seeing how these different clothing items fit Cheyne and Hope in comparison to me! Haha. This vest was so long on me, it could have almost been a dress in itself but on them it looks like a regular old vest. In the last one, my dress went almost down to my knees but fit them perfectly! Not gonna lie, it kind of makes me wish I weren't so short so I could wear clothes like them ;)
Whenever I wear my bows, I feel like Jasmine :). Hehe! I actually have been doubting whether I should wear them like she just talked about because I've been getting such weird looks and at the movie the other day I got asked if I was a sibling visiting. What!?!? Bah!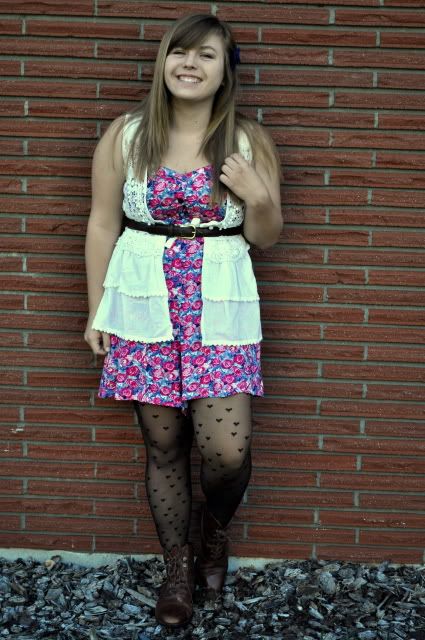 Okay! What do you think....without the sweater...
or with?? I can't decide which I like more!
I realized that I have never, ever included my bags and purses in my shots. Mostly this is because I don't usually use them. I don't like them. But, I've been forced to in college and here is my baby! I kind of splurged on this bag from Urban and spent more money on a bag ($70) than I ever have. But I use it constantly so I guess it was a good splurge.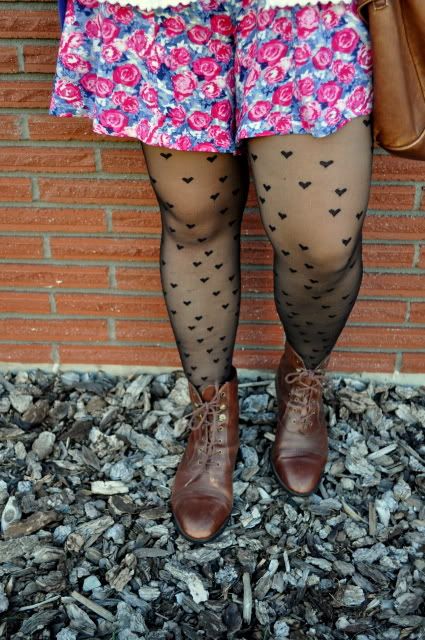 Gosh, I just can't get enough of these boots. Thank youuu Niklaas! I wear them a lot. Especially on campus. They're so comfy and they look so darn good with everything. I even get compliments on them! I love wearing them with tights:)
My friend took these picture (yes, I said friend! I have friends in college!). It was oh so scary to ask her to take pictures of me...but I think I've taken pictures with them about four times now and it's not quite as bad as it was. I told my roommate about my blog (sort of) but I don't think she really gets it. Which might be better? Hahaha. She took the picture (below) too, and unfortunately the camera wasn't in focus so some of my favorite "poses" came out blurry. Oh well. It's a learning experience, yeah? :)
I think you get the idea...hahaa:)
In a comment the other day (sorry, I don't remember who said it...), someone said I looked like Kirsten Bell! I've never gotten that before! In fact...I don't think I've ever been told I look like anyone. Haha! It made me laugh. But only because she's so incredibly pretty! So, I was like, whatt??!?!? Haha :) I have to say, looking at pictures of me with braces and now sans braces, I am so happy to have them off. I am much more proud of my smile hahaha.
Well, I think that's all :) I hope you're liking the DSBS (Divine Swappings of a Blog Sisterhood) as much as we are! It's probably the best thing that has happened in creating a blog- I love it!
Love,
Maggie
P.S. Also, does anyone else agree that Taylor Swift's fashionista outfit looks amazzing at the Milan Fashion Week Roberto Cavalli show?