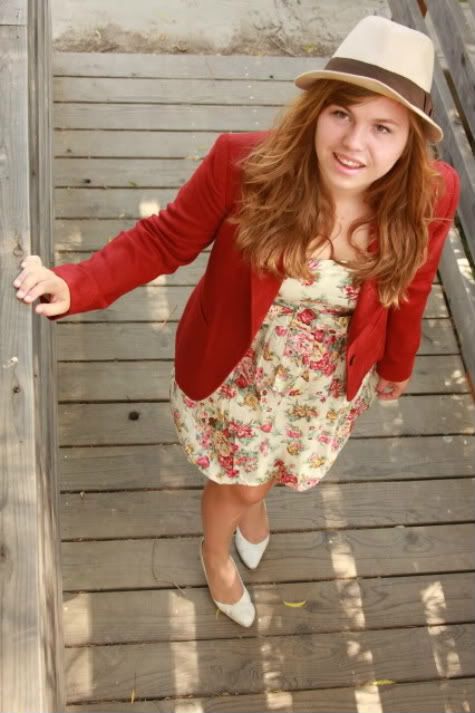 Nine years ago to the minute, I was looking at my alarm clock and even my OCD ten year old self was freaking out about waking up late. I ran into my parents bedroom to berate my dad for not waking me up and before I could say anything, I stopped in my tracks when I saw the TV. I wasn't old enough to understand the magnitude of the situation nor the simple fact that hundreds of people's lives were being taken in front of my eyes, but I'll never get the image of the twin towers collapsing out of my mind. Nor will anyone. I remember my teacher at school later in the day saying, "When something happens where you won't be able to forget the exact place you were when it happens, then you know it's big." It was kind of weird to say at the time, but it's true. We all remember where we were when we heard. Regardless about how you feel politically, you have to appreciate the lives lost fighting in the name of our country that day and the innocent people found in the wrong place at the wrong time.
Moving on, you know those photoshoot days when...every picture is a good picture? This photoshoot was one of those kinds. Seriously, every single picture turned out
so
well! Ironically, it seems that every one of our "best" photoshoots is when we go into it without a specific vision in mind and just..take pictures. In this case, I said, "Oh, let's just get this outfit over with and take pictures of it," not expecting anything. We found a random-not-thought-out location and miraculously, everything just came together so well.
I wore this dress for the actual graduation ceremony. Of course, it's kind of silly because who even sees your graduation attire under your robes?? Only those family members who were roaming about my house before I drove off into the sunset saw it. But, oh well. I'm wearing it again, you see! I love the little florals and mix of pastel colors in it, so precious. Honestly, I threw this blazer into the mix at the last second and looking at them together it just feels like they were born to be together! It brings out the colors in the dress and ties in so perfectly with my fedora and white shoes! Ahhh!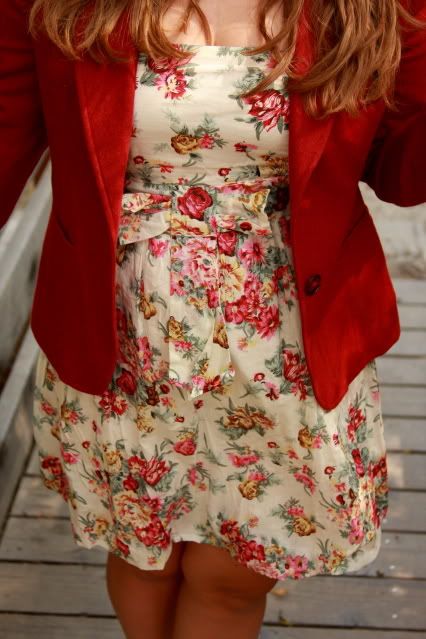 dress-Rue21 blazer-mom's closet shoes-mom's closet hat-Urban Outfitters
So there's this girl down the hall from me in my dorm who I've been dying to become friends with the whole time I've been here. Of all the friends I've made...not one is even remotely fascinated by clothes like I am. My roommate doesn't own a single skirt or dress! Hahaha :) Which is fine, I love her, and I love my friends. But I've been dying to meet a friend in real life here apart from the blogging world to share my love with. And this girl down the hall wears such cute dresses and cardigans! Well! Last night, she came over to our room with two other girls and we had a movie night! And tonight, we are going to Letters to Juliet together! Friends?? I think it could turn out that way!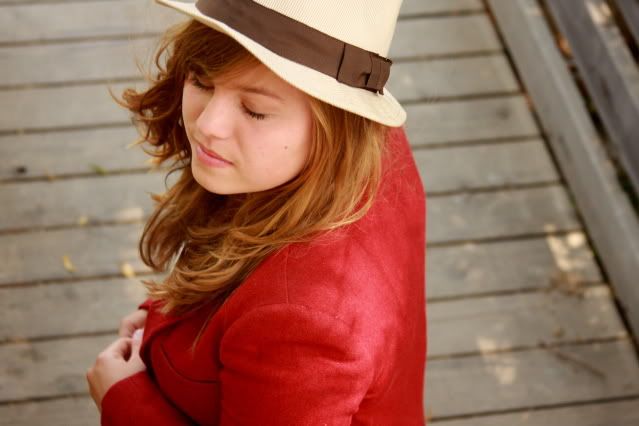 Niklaas always ends up in crazy positions when he takes my pictures. When he was taking the one (above) and a few of the others, he was climbing all over this bridge and I had to take a picture of it! It's so funny.
cuteeee, eh??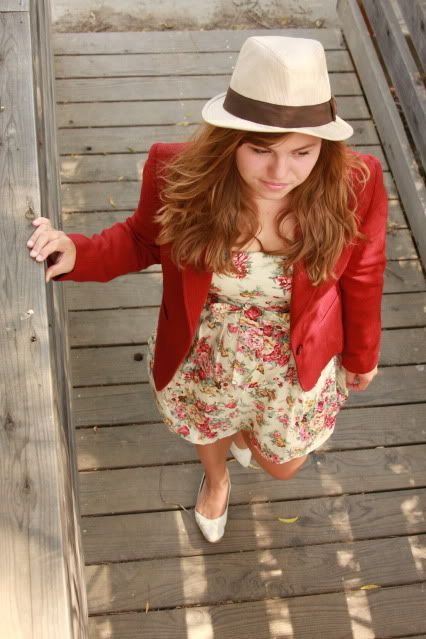 My overachieving ways are kicking my butt as it turns out. I always do my homework the second I get home from class...and by the time I go to class 2 days later, I've forgotten almost everything I've learned and my skills are rusty. My chemistry class is so hard! I got a 100% on my quiz this week and an 85% the time before..but this week I got between 40-60%. Sigh. I need to do homework later and closer to quiz time haha :)
I think that's all for now!! I'm so happy that all of you are as excited about the blog sisterhood as we are :). I wasn't expecting that excited of a response but the feedback was amazing! So, thank you! We have another one coming up soon so stick around :)
Love,
Maggie