You know summer is ending when you're aware of how many days are left. And when you start thinking to yourself, "I need to do this, this, and this before school starts." And when you know what day it is. And....when a Saturday actually
feels
like a Saturday. Crap.
So. Week one of posting three times a week went very, very well I think!! Normally I post every 4-7 days, but this week it was every other day. Wow!!! And you guys kept coming back...so I'm amazed. Thank you so much! Success!
Niklaas was a kind enough boyfriend to go to the city with my mom, sister, and I and entertain me while they went to appointments. We walked along the boardwalk of the beach, drank coffee and split a cookie in the park, and took pictures in the sand. It was kind of extremely blissful to just walk along the beach for a couple hours. We went shopping afterwards and cruised forever 21 together. To those of you who have your "boys" take your blogging pictures, I don't know how "into" clothes and pictures they are, but Niklaas is definitely "into" the whole thing. Hahaha. It's cute. He had a stare down with another hipster in the store where they checked out the other person's outfit...and it was just cute. Haha.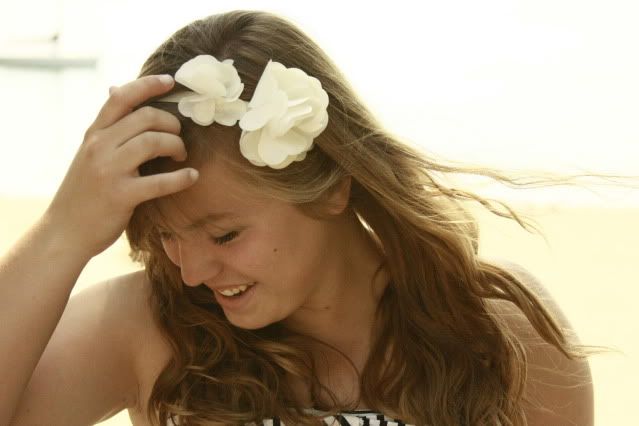 I know you're probably all sick and tired of this bow I wear. Well. I am too! I love headbands dearly, though, because they keep my hair out of my face and are an easy "accessory". Thankfully, you'll be seeing a few different ones because I finally bought new ones! Yippeee!!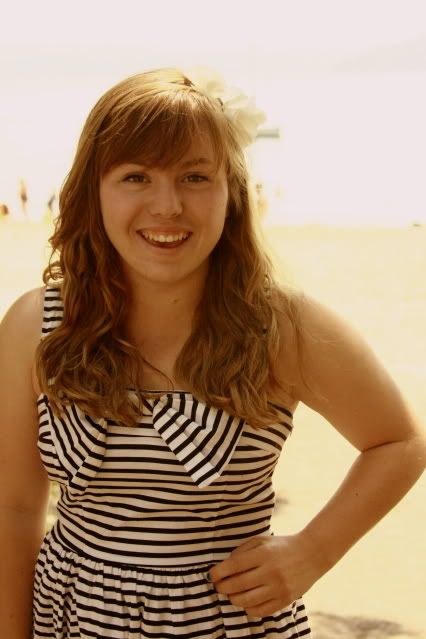 dress-forever21 bow-wetseal wedges-thrifted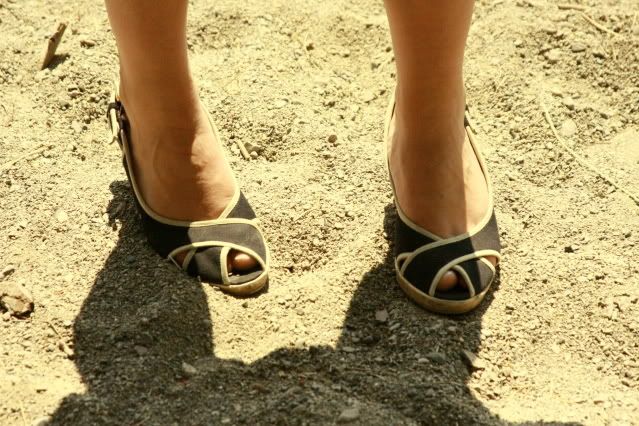 I specifically planned to wear this dress to the beach to take pictures because of its "nautical" style. I love it so much!! I'm not sure how I'm going to wear it in the fall...but it's a great summer dress. The bow on the bust is what convinced me I had to have it along with the stripes. It's just so breezy and comfortable! I got these wedges for my birthday from our local consignment shop (my favorite place!) and I couldn't be more in love. They go with almost everything I own PLUS they are only three inches high! Due to my....*cough* clumsy behavior, I can't walk in anything much higher. And I don't know what it is these days, but SOO many wedges anymore seem to be at least 4-5 inches tall with a platform. Ahh! I can't do it :)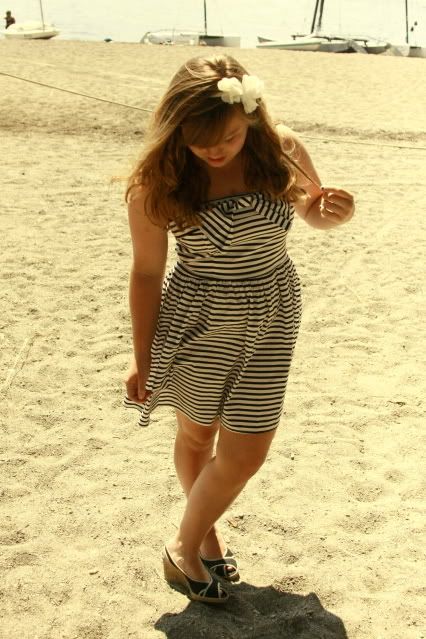 Oh! I don't know if any of you have ever noticed...but every single blog title is either the title of a song or a lyric. This isn't uncommon, in the slightest, so I'm not proclaiming myself to be the founder of blog originality or anything, but I'm just sayin', some songs are looking into. Like this one! This song actually kind of inspired this shoot. Boats and birds by Gregory and the Hawk.
if you be my boat, I'll be your sea. A depth of pure blue just to probe curiousity.
ebbing and flowing and pushed by a breeze
I live to make you free.
So, yesterday morning was one of my favorite mornings in existence. A girl from Niklaas' church is getting married, so he brought me along to help do the flower arranging. It was a blast! We woke up before sunrise and did a short photoshoot that is definitely our new favorite (I CAN'T WAIT TO SHOW YOU!) and then walked through this giant garden of flowers filling buckets with every flower imaginable. Later, I helped the girls cut and clean them. It was so relaxing! Niklaas and I always giggle about how someday we want a flower shop. It's cuteee.
Speaking of which!! I showed him all of your comments on the last post and we giggled at them together. Hehe! So much fun. You all are seriously the sweetest. It's only been three months of "togetherness" as some of you know who read about us in the beginning stages, but I completely adoreee him. Your comments made me blush :) Everyday is better than the day before! He also loved loved loved all of your comments about the "photography". I just told you he is very "into" the taking pictures thing, so photography comments warm his little heart. Haha :)
Have a good weekend!!
Love always,
Maggie
P.S. There are only 11 days left in my giveaway! Enter my giveaway here! :) 5 dresses!
P.P.S. I love reading your entries and secrets! So fun!