Hellllo fellow bloggers:),
I am unfortunately home sick today due to the fact that I have
septicemic plague and the boils have taken over my face. If you thought zits were bad....... (kidding!! I realize, you all don't know me, and that was entirely a fabrication ;) Sarcasm is hard to pick-up on through writing, I guess)
But, really. I am home sick. My little sister and mommy are sick as well, so I'm stuck here in a quarantined sick house! My dad is afraid of going near any of us.
Well, I was planning on making this blog entirely about something else, but as I'm realizing..so much happened this weekend, I better try to not bite off more than I can chew!
Thursday, the dear and I went swing dancing. Have I mentioned that I am a swing dance extraordinaire?? Well, that might be a wee bit optimistic, but I really do swing dance with my friend. We have a performance coming up soon, and every Thursday night we go to this ballroom above a club and dance with other interesting people. It was formal night, so we matched and it was cutee. I got asked by three complete strangers to dance!
Here is the outfit I wore Friday to school :). I really love this dress, and I never would have thought to put a blouse under it, but I am happy with the result!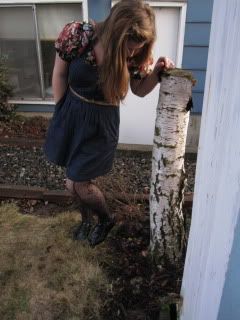 dress-Forever21 floral blouse-Forever21 shoes-Steve Madden Tights- UO


I am a true Idaho-ian at heart:). The lighting in these photos turned out pretty neat, I think.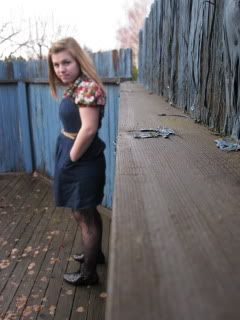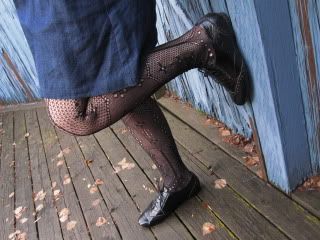 On Saturday, I attended my first ever FOOD FIGHT. It wass my friend Emily's (who is one of the coolest people I know. Seriously, I envy her style) 18th birthday, and she threw a food-fight birthday party. It was extremely fun and everything you imagine it would be like when you see it happen in lunchrooms during a movie, and more. But the one thing movies aren't able to portray is the SMELL. I seriously did almost puke.
(the group after the flight!)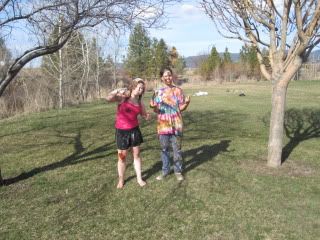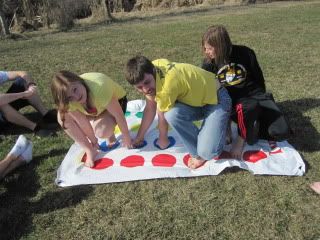 (champs!)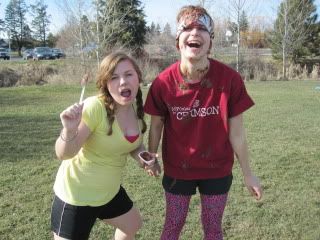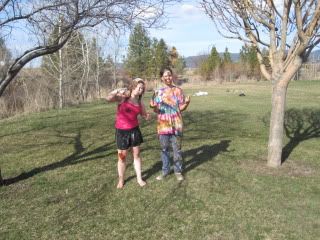 (the birthday girl!)
The weather was abominable (in the best way possible!) all weekend long. It was in the upper 50's, low 60's and....wow. For our little Northern Idaho town, this was strange. Last year, we had three feet of snow in March and had 9 snowdays. This year, we got eleven inches of snow total for the whole season and zero snowdays.Perfect for a FoodFight though! It felt amazzzzzing.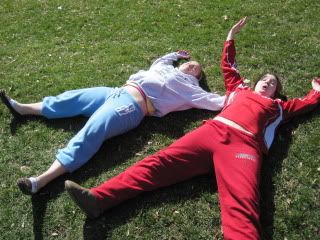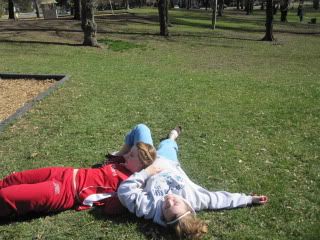 We basked in the sun all morning at the park. It was amazing. And, yes, we are definitely in our pj's....
And MY personal favorite event all weekend.....I got taken out to dinner by the dear. I've never been taken out to a restaurant, in fact, I tend to avoid it. Heh. I am seriously THE pickiest eater in the world...I've never had soda, a hotdog, a hamburger, and 95% of the vegtables in the world. But, he took me out to Thai food, and I TRIED PadThai! It was pretty excellent. We talked and giggled the whole time, and the best part was that we were dressed up:).I wish I had taken a picture of my outfit. It was the perfect "Dinner Date" look! He was dressed up in a suit and awwwwww, it was delightful. We went to sadies together afterwards :). Guess who we went as??
Isn't he adorable?? We got so many compliments! Definitely the most clever outfits there,
if you ask me. Although, the Bella/Edward combo was hard to compete with. To get his hair this way, I straightened it, and then he gelled it back with about a pound of hair gel. It was too funny.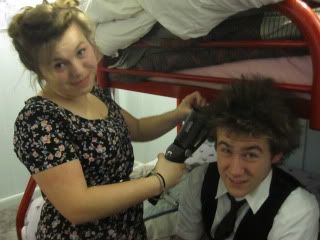 I'll blog again this week before my big adventure to college :)
Love always,
Magpie:)
My song of the moment:
All the Pretty Girls- Fun.