When I was just four years old, I laid my hands on a book titled, "Anastasia," and was forevermore in love with the Romanov family. Of course, it didn't matter to my four year old self weather or not Tsar Nicholas II was a political nincompoop, Anastasia was a princess with three sisters and lived in a giant castle where she got to paint all day long in the sunshine. My dad reminded me of my obsession tonight while watching Gilmore Girls and told me the story of my first movie theater experience. My sister was sick for much of her very early childhood and on a particular bad night, my dad took me to the movie I had been talking nonstop obsessively over. The whole time during the Disney adaptation of Anastasia I was a "Mexican jumping bean" and squealing in my chair. And to this day, I still remember the magic of just going to my first movie with my dad who at the time, was the person I spent the most time with while my mom had to look after my sister. I haven't thought about those early years in
forever
, but tonight watching Gilmore Girls with him held some sort of the same magic as sitting in the theater of Anastasia and I'm only now realizing that it wasn't the fact that I got to watch the Romanov's on screen
finally
that made it so special, it was sharing it with him. Just dad and Maggie time.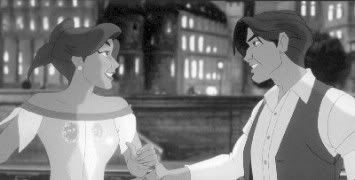 I leave for school in exactly fourteen days. Two weeks. Home has been an experience like nothing else. I've decided since that by the time I have to leave I will have over twenty five photoshoots downloaded onto my hard drive that I am only going to take five dresses to school. If that. At the end of the semester, I ended up wearing jeans
every
single day. It's not to say I won't ever wear dresses, but I'm going to wait until spring to start frolicking around in them every day. It's a lot to hold up when you have to walk ten minutes to and from class everyday a few times a day in ten degree weather and wind. It was easier in High School when I had to endure thirty seconds in the cold to walk to my car. I miss it! But at least for the next two months I won't have to worry about what I'm going to wear so that I can take blog pictures!
I wasn't going to post these pictures so soon because they feel more like spring rather than smack dab in the middle of winter like my previous pictures have felt, but I couldn't resist. They turned out so wonderfully! In a last minute decision, I ran to Ross before I took these pictures deciding I needed leather gloves to complete everything. Luckily, they were on sale for five dollars so I got a steal and they are
super
warm so they may have a shelf-life of more than just a photoshoot after all! This dress was another Christmas present. I was
so
excited to get not just one Modcloth dress, but two. I definitely like this one more than the other- it will incorporate into spring and summer so much better than the other (but I still love it too!). The floral and open back are just too endearing! I finally bought some brown tights and wearing them with this dress seemed perfect. I usually opt for pattern mixing with my florals but taking away from the dress seemed like a crime!
dress-Modcloth tights-Nordstroms boots-Urbanog hat-Urban Outfitters belt-Momma gloves-Ross
I also discovered the magic of Pandora today! Huzzaah! I created my very own account and listened to new music all day long in my bedroom. Niklaas came over last night and helped me clean my room. It wasn't intended to go the way it went (the way being that he cleaned 90% of it) but he did an amazing job. I have been sleeping on the couch lately because my room is a disaster and also completely freezing so now I have a room to sleep in! Yay! I think I'll miss this couch tonight, though. It's seriously the most delightful huge oversize couch in the world.
I got these boots from Urbanog- they're my first Urbanog purchase! I originally wanted the leather-y ones like my brown boots that Niklaas got me but they were out of stock and suede was the only kind they had left. But they are still cute and possibly more comfortable than they would have been had they been made of leather! I haven't worn my fedora since the summer and lately, I can't
not
wear an accessory in my hair whether it be a bow, beanie, or hat. I guess it has to do with the fact that I really hate the length of my hair these days. I miss my length!! It's in that awkwardly not-short but not-long either phase. Hmph!
I did only three things today. I wrote (6 more pages!), crocheted (2 more hats in the making!), and watched television with my dad. It was a lovely perfect Sunday. Tomorrow I have a breakfast date with my friend from High School who goes to a fancy engineering school in Boston and another mutual friend who lives here at home. It's actually pretty funny because we used to be part of a large group of about fifteen girls in junior high that dwindled as the years progressed. And now we are just five and unfortunately, we're not as close as we used to be. One of my "goals" taht isn't particularly a New Year's Resolution is to try harder to keep friends with people at home. It's
so
hard sometimes when I can't catch people on IM or skype and when letter writing takes time on both ends. But I'm determined to be there for them and work at it because there are some friendships I really can't lose no matter the business of our schedules.